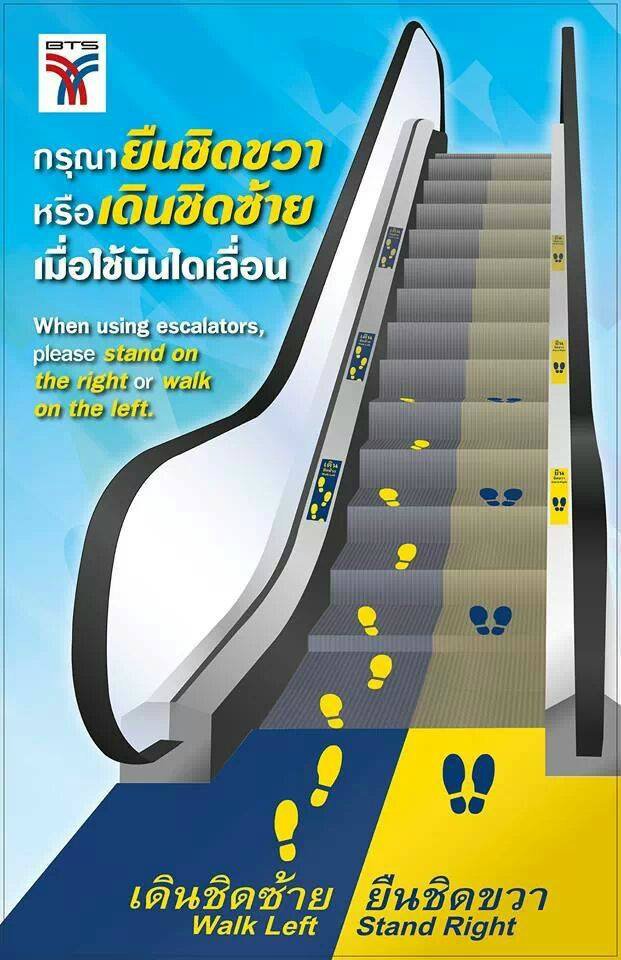 Tips for Using Stairs Escalators and Elevators
Escalators, using in BTS SkyTrain System, are faster more than normal escalators. Passengers must use it carefully.
Please stand or walk on the right side and hold handrail.
Do not lean against the sides or lean over handrail of stairs or escalators.
Do not obstruct stairs or escalators.
Do not lean your head outside escalators' handrail.
Do not stand too close to the edges of escalator steps.
Do not place your feet too close to the sides of escalators.
Do not run, play or push others using on stairs or escalators.
In case of emergency, press the Emergency Stop Button, which is located at both top and bottom of escalators and inform BTS Staff immediately.
Tips for Using Elevators
Press at the front of elevators (At Mo Chit. Siam, Asok, On Nut and Chong Nonsi Stations.) or press (At Krung Thon Buri, Wongwian Yai, Pho Nimit, Talat Phlu, Wutthakat, Bang Wa, Bang Chak, Punnawithi, Udom Suk, Bang Na and Samrong Station) to contact BTS Staff for using it.
Take extra care of children, disabled and the elderly while using elevators.
Do not overload the elevators.
In case of elevators hitch or requiring assistance, press the yellow button with a bell symbol to inform BTS Staff immediately.
Do not use it in case of fire.